Sunday, November 28, 2010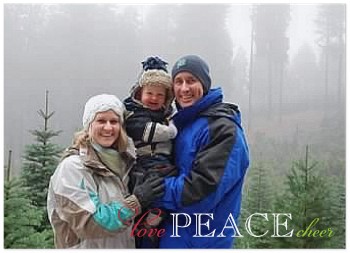 Love Peace Cheer Christmas 5x7 folded card

Posted by

Kelly
at 10:37 PM
2 comments:

Thursday, November 18, 2010
With the upcoming holiday season I have decided to continue sending out holiday cards to the people in my address book. Part of it stems from my love for mail... the other from my love of pictures. Each time I upload my photos to my computer, I also upload my photos to Shutterfly.com. I feel good about having my photos on a website in the awful incident that my computer crashes or something goes wrong with my camera. I love their products too! I have recently made books for family members and myself with pictures of Ry-Guy over his first year. Shutterfly has GREAT customer service and is reasonably priced.
We haven't taken our photo yet this year, but when we do, I will upload it to Shutterfly and order my cards! Click
here
for a link to some of my favorite cards! There are so many cute ones, it takes me forever to decide on the one I will select for the season.
Sometimes we have people on our list that are difficult to find gifts for... here are some ideas for gifts you might be able to make for the loved ones in your family needing the perfect gift...
Mugs from Shutterfly can be found
here
and would be perfect with a coffee gift card inside!
You might also fall in love with the stationary and cards found on their website or by clicking
here
.
I have been able to write this post and earn 50
FREE
holiday cards this year by clicking on the link I previously posted in my blog. If you missed it, here is the link again:
http://bit.ly/sfly2010
Will you be sending out holiday cards this year?
Have a blessed Thanksgiving all! I hope to be blogging more and more with the upcoming year!
Posted by

Kelly
at 11:59 AM
1 comment:

Sunday, November 14, 2010
I haven't blogged in forever
.
I love to read blogs, but never take the time to sit down and write up my own. I know I should, maybe I will get better
now that Ry-guy is getting older.
Here is the most recent picture of my little love (and his side kick Gracie Lu) from Halloween...
It's WOODY from Toy Story!
I am really looking forward to the holidays this year. Ry-guy is a fun age and reignites the spark in the magic of the holidays. I am so lucky to have an incredible family to share this memorable time of year with me.
Why did I start blogging again? I found a special offer from Shutterfly to blog about them and get 50 free holiday cards... I know... REALLY! I love Shutterfly- I upload all of my photos to their website and have made several photo books for myself and family. If you haven't checked out their website, you should! www.shutterfly.com
Oh yeah, here is the information about the blogging for holiday cards too...
It's so easy. Just click
here
and enter the information requested.
More updates to come... I have missed hearing from everyone!
Anything new with all of you???